About Me
...why not give me a ring?
A background in photography and design
Previously a graphic designer for a large marketing company in Bristol, in 2003 I joined Kodak Weddings as the lab manager overseeing film developing, printing and album production and that's where my photography journey began. During this period I was trained by a team of experts in the craft of wedding photography and went on to set up my own business in 2007. Since then I have photographed many hundreds of weddings and built up valuable experience.
I achieved my licentiateship qualification through the British Institute of Professional Photography back in 2011 after having a panel of my work judged and approved by their group of experts. I continue the journey and strive to improve my knowledge and skills.
Although the majority of my work is shooting weddings in the Hertfordshire and Essex region, I have also been lucky enough to photograph weddings further afield in the UK, Europe, the Carribean and even to Australia. Whether your wedding is at one of my local venues or if it is at a venue I've not photographed at before, I will find fabulous locations for your wedding photographs every time.
Photography is my passion, I love my job and my customers are always very pleased with my results.
See more of my photography ›
Please feel free to get in touch
To enable me to prepare an accurate quote please supply as much information as possible.
Detailed service information and pricing
If you looking for more indepth information about the service and coverage I can provide then please click the link below.
Learn more about my service ›
Follow me
Keep an eye on my recent weddings, please take a look at my blog:
I'm also active on Facebook and Instagram, so please feel free to follow me and "Like and Share" on social media:
Making you feel at ease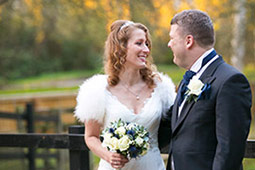 My relaxed approach will make you feel at ease from the very first moment, taking the photographs you've always wanted and ensuring you have time to enjoy your day with your family and guests.
I'm a specialist at being able to capture stylish, natural and casual looking photographs. I am proud of my reputation for quality and reliability, enabling me to provide you with an unrivalled service.
Read what my customers say